---
The author of this article, William Eastwood, worked for a Yale University professor on a secret invention at a private research and development facility at age 13. This is documented in the public record.
Eastwood's 45 year study / 25 books reveal that intensity, conditions and other factors determine when your thoughts are projected into events. He has a daily post to help you create the life you desire.
Founder of:
Will Trump Be Indicted, Arrested & Sent to Prison? Latest Update, Article & Book
---
Will Trump be indicted, arrested and sent to prison?
Where are the latest updates, article and book?
I will answer these questions now.
Every day it is looking more and more like Trump will be sent to prison, it is just taking too long.
"The world is a dangerous place to live, not because of the people who are evil, but because of the people who don't do anything about it."
― Albert Einstein
9/25/23 UPDATE:
Why hasn't Trump been sent to prison?
When the focus of a nation is on a problem, energy is added to the problem. Former U.S. President Donald Trump degrades people to get attention and the energy of the attention on the problem then works for him.
Trump will be indicted, arrested and sent to prison
---
Former U.S. President Donald J. Trump will eventually be indicted, arrested and sent to prison. No one in the U.S. is above the law. The success of the January 6th Committee hearings will lead to an indictment of Trump.
Trump will be indicted, arrested and sent to prison for his crimes. On a daily basis, mountains of evidence are being examined that implicate Trump and dozens of Trump associates in the attempted January 6th 2021 coup.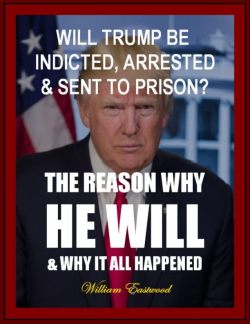 In his book, Eastwood reveals the reasons why Trump has not yet gone to prison. In 2020 Eastwood predicted that Trump would eventually be indicted and sent to prison.
The drama we see playing out on the news is a scientific manifestation of collective beliefs. What happens to Trump himself is a product of an array of conscious and subconscious beliefs Trump holds.
Many of Trump's beliefs are derogatory and incorrect, yet they still have prevented him from being more severely harmed by the multitude of agencies attempting to hold him accountable for trying to overthrow American democracy and the United States of America.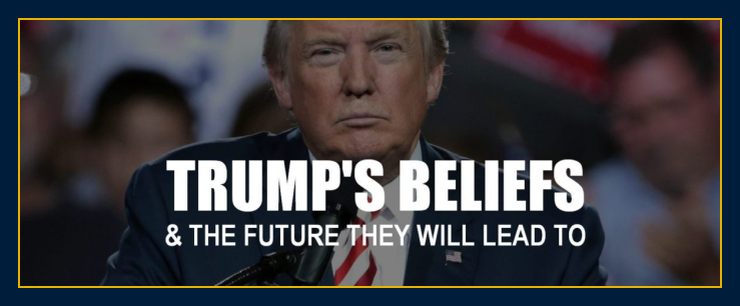 EASTWOOD
Trump will be indicted, arrested and sent to prison
---
Trump will be indicted, and he will go to trial and lose.
EASTWOOD
Scroll down for older updates.
06/28/22 update: The January 6th Committee presented the sixth televised hearing and it was as compelling as the other five:
Trump's lawyer, Rudy Giuliani had a meeting with Trump on the 4th and immediately afterwards tells White House staffer Cassidy Hutchinson, January 6th "will be great." Meadows says "things might get real, real bad." Hutchinson, who had supported Trump and his agenda, was disgusted by what she learned and described Trump as "indecent, vile and uncivil."
AR-15s and Glocks — semi-automatic rifles and pistols — were reported in the crowd at the Ellipse White House visitor's center.
Trump said, "I don't effing care that they have weapons… Let my people in…. Take the effing mags away," [metal detectors] according to Hutchinson.
More information and more latest updates on when Trump will be indicted and arrested.
Will Trump be indicted, arrested and sent to prison?
---
Yes, Trump will be indicted, arrested and sent to prison. Trump told then-Acting Attorney General Jeffrey Rosen on the phone to just say "the election was corrupt and leave the rest to me + the R. Congressman," as an attempt to implement a plan to take over the United States government and remain in power.
This is additional evidence of criminal intent and a criminal conspiracy to overthrow the United States government.
Trump must be indicted, arrested and sent to prison or this nation is in grave danger. It is up to the Department of Justice in Washington DC to indict, arrest and send Trump to prison.
There are currently about 20 active criminal cases against Trump. It is inevitable that Trump will be subpoenaed, indicted, arrested and sent to prison.
The Trump book that addresses underlying issues
---
This Trump book is unlike others in a variety of ways.
Will Former U.S. President Donald Trump Be Indicted, Arrested & Sent to Prison?
---
The Reason Why He Will & Why it all happened.
Trump will go to prison
---
Indict and arrest Trump!
Latest u
pdates and a plan to save democracy
---
Latest Trump indictment and arrest related news update on 3/02/22: The January 6th Committee has filed a motion in court documents today based on solid evidence that Trump committed "criminal conspiracy to defraud the United States" and corrupt obstruction of an official proceeding in an effort to overturn the 2020 election.
The evidence is well documented.
This is also intended to stop John Eastman from pleading the 5th. The Select Committee is telling a judge tonight that the former President Trump, John Eastman and others where engaged in crime and are therefore not eligible for a 5th amendment plea.
The time is fast approaching when Trump will be subpoenaed, indicted, arrested and sent to prison.
02/08/22 UPDATE: The National Archives retrieved 15 boxes of White House records from Trump's Mar-a-Lago home which included letters from Barack Obama and Kim Jong Un. Trump has violated the Presidential Records act in this and other ways. While in office he routinely ripped up correspondences and records that are required by law to be retained. Hundreds of official documents received by the Archives are scotch-taped back together or still in pieces.
When the Supreme Court denied his claim of executive privilege, in order to conceal exactly what he was doing before, during, and after the January 6 attack on the Capitol, he shredded government documents.
Witnesses have reported that Trump has even eaten documents in the White House to conceal wrongdoing. As a business man this is what he learned to do — to destroy incriminating evidence. Presidents are normally held to higher standards because they represent the country. For these reasons, Trump should be subpoenaed, indicted and arrested immediately.
Destroying federal records during a presidential transition is a federal crime. Trump did so with criminal intent and was aware that his actions were criminal.
01/06/22 UPDATE: U.S. Attorney General Merrick B. Garland's remarks yesterday indicate that the DOJ will hold Former President Trump and others at the top accountable for their actions tied to the Jan. 6th insurrection.
Garland said the DOJ is committed to the rule of law and to following the facts wherever they lead.
Garland vowed that the DOJ would pursue wrongdoing "at any level." Specifically, that the DOJ would defend democratic institutions from attack and threats of violence.
So far, federal charges have been levied against over 700 of Trump's supporters who ransacked the Capitol in a bid to stop the certification of U.S. election.
01/06/22 UPDATE: President Biden' gave a speech on the one year anniversary of the January 6th violent attack of the Capitol of the United States today.
President Biden strongly denounced Trump's attempts to tear down democracy because he could not stand the fact that he lost a free and fair election. Biden accused Trump and his allies of holding "a dagger at the throat of America."
President Biden's speech was a searing reprimand of Trump and the Jan. 6 mob assault on the Capitol. President Biden said Trump is waging an "undemocratic" and "un-American" campaign against the legitimacy of the election system, and compared it to the actions of ruthless autocrats and dictators in other countries.
These two speeches strongly suggest that Trump, Bannon, Clark, Flynn and all those tied to the January 6th attack on the White House will likely all be subpoenaed, indicted, arrested and sent to jail.
A civil war is likely, but not likely a violent traditional form of civil war, according to the consensus of many experts.
9/28/21: UPDATE: A federal judge in Washington DC today wondered why so many law abiding Americans morphed into terrorists on January 6th. Specifically, a Capital rioter defendant said she "wanted to shoot fn.. house Speaker Nancy Pelosi in the head." That woman was only charged with a misdemeanor.
In another incredible story today: the Dominion voting machine company is suing for defamation. In Colorado there was a deposition given by Trump's lawyer, Rudy Giuliani, as to the origin of the Dominion voting machines fraud allegations.
Under oath, the president's lawyer said he thinks he "maybe got it from Facebook and social media."
"Why wouldn't I believe him," said Giuliani regarding the Facebook theory that Dominion voting machines were rigged. Giuliani did not, however, say that this person's credibility was checked. He never interviewed anyone who created that story, and there was no investigation done.
This story, which he says was just concocted, has morphed into Trump supporters becoming terrorists on January 6th and the big lie.  This is the core of the nationwide effort by republicans to change election laws so that Democrats cannot be elected. This is a coup to take over our democracy and the United States of America.
"How does a person become a radical Trump supporter?"
You feel powerless and you need someone to blame. Trump does that for you.
"Trump and his supporters think the universe is a hostile place and that people are evil and cannot be trusted. These beliefs are the basis of authoritarianism and extremism. They are out of control myths held by those on the far right and they are popular in rural, uneducated America. These beliefs are a threat to our survival.
"Anger is supposed to be a catalyst spurring you on to take constructive action. If you do not act and remain in a negative state, however, you add energy to the problem and perpetuate division"
— William Eastwood
Will Trump be indicted, arrested and sent to prison? Latest update, article and book.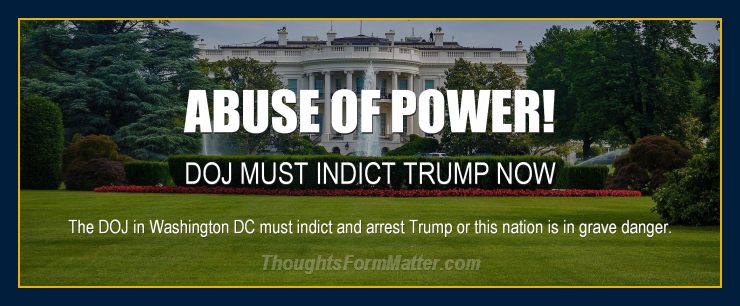 Former acting AG Jeffrey Rosen voluntarily cooperated with the Senate Committee investigation in a seven hour testimony on 8/8/21 to provide all the facts. The catastrophic and terrifying nature of what happened is of utmost importance. This historical attempted takeover of the United States is part of a larger investigation that will be revealed soon.
Trump attempted to break the DOJ through a pressure campaign, engineer a new DOJ to take over the government and the United States of America.
Rosen blocked Trump from doing so. Details will be coming out in the investigation. News of this attempted coup was released by the House Oversight Committee, and came from a December 27th phone call between Trump and Rosen.
You cannot indict and arrest a sitting president. But you can indict and arrest a former president.
Trump can be indicted and arrested for Conspiracy to Defraud the United States and Seditious Conspiracy.
Congress and DOJ has not prepared for preventing an overthrow of the United States Government by a sitting president because this is something entirely new.  Such a high level of criminality by a president is unheard of. Nor could our founders have foreseen the use of television by a president to send false and misleading information to the public as an attempt to take over the country.
Because Congress, various government agencies and the world were not prepared for this kind of thing, dealing with it has been slow. Congress, the Department of Justice and the states, however, will eventually work together to indict, arrest and send Trump to prison.
The DOJ letter
---
A day after Trump's phone call to Rosen, a DOJ attorney named Jeffrey Clark, tried to assist Trump in his claim that the election was stolen. In an attempt by Trump and Clark to get the DOJ to be complicit in an attempted takeover, six states were to be notified "that the election was corrupt." Trump and other Republicans would then take control of the government and Trump would stay in power.
Rosen and Donoghue, however, refused to sign the Clark letter to be sent to six states from the DOJ stating the election was corrupt. Nor did Trump fire Rosen for fear of political backlash. Rosen blocked the Trump-Clark plan / coup.
DOJ in Washington DC must indict, arrest and send Trump to prison.
Had the conspiracy to overthrow the United States government succeeded, The United State of America would no longer exist in its present form. There would be no Democracy.
Clark and Trump engaged in a criminal attempt to overturn the election and overthrow the United States government. The DOJ in Washington DC must indict, arrest and send Clark and Trump to prison.
8/25/21: The Select Committee investigation has exploded in scope. Trump staffers, allies and even family are included. Over a dozen agencies to submit records. Also: nine Trump lawyers attempting a coup to undermine democracy were referred to authorities for potential disbarment and punitive actions. This is a rare and extraordinary action by a federal judge.
There are three attempted coups. The January 6th riot was an attempted coup, this phone call is an attempted coup and the current nationwide Republican effort to change voting laws is another ongoing and more threatening coup attempt.
Because all three attempted coups are each a criminal conspiracy to overturn an election and overthrow the government, Trump will be indicted, arrested and sent to prison.
The introduction of the book that tells all, was released on August 8th, 2021. The introduction is only available here.
Will Trump Be Indicted, Arrested & Sent to Prison?
---
The Book
---
Excerpt from book
Introduction
Mary Trump, President Donald J. Trump's niece, said in an ABC interview, he is a very dangerous and sick person. Trump's appearance in politics and tenure as President of the US is a symptom of growing discontent and negativity in the United States of America and in the world. What is most noticeable is a division within the population. America is divided, with conservatives on one side and liberals on the other. Trump's election, therefore, is related to this division and the discontent on the part of a mainly rural and uneducated segment of the American population who previously had no voice in politics.
Once the American version of barbarians heard their frustrations and prejudices voiced in Trump, they would not let go no matter how corrupt Trump tactics were, how many thousands of lies Trump racked-up and how many people in his administration were indicted, arrested and sent to prison in handcuffs.
Trump's criminal approach to "running" the country, his bullying and intimidation tactics to manipulate the Republican Party and his appeal to the Radical Right is a hodge-podge of the worst of everything in a single package delivered to the oval office and the highest position in the free world.
So, what is going on?
Why is this monster in our government destroying our country? How is this allowed? To many Americans the most disturbing and greatest mystery of all time is why Trump supporters would never let-up or admit they were wrong. How could anyone in their right mind believe this man was doing anything constructive and how could they live with themselves as they continued to support this monstrosity of a person wreaking total havoc on the whole country and even world. They denied climate change, for example, and now the entire western region of the country is on fire, and they still cannot see what is happening here.
This is really all about psychology.
The nutty man in horns at the Capitol riot, the rampaging rioters themselves and the makeshift gallows was straight out of the middle-ages. Symbolically, the gallows is a carryover from the cross on which to crucify one's religious enemies. Symbolically, this insanity reaches back to Roman times when barbarians nailed anyone they did not like to a cross and impaled commoners and nobility alike with poles just because they could or were angry.
The fact that our own government―Republicans―could stick with the bully who let loose this chaotic primitive energy on the most sacred public space in our nation and the very location where they work, is beyond insane!
All of this―from the criminalized "politics" of the Trump administration to the January mob attack of the Capitol―reflects the mind of Trump. These events are manifestations of what is in his mind; and it speaks loudly of the content of his supporter's minds. It is an indescribable mix of chaos, hatred and repressed anger let loose as a wild and uncontrolled energy guided only by the primitive intent to execute anyone standing in their path.
By targeting the highest symbols of civilized behavior, logic and reason, by attempting to crucify one's enemies and destroy the centerpiece of our free system and the electoral process that makes America what she is, what was shown to the world and the American people on January 6th, 2021, was the greatest embarrassment to "we the people" in our history as a nation.
Since this happened in our nation, something is wrong. This event should make that clear. As Congress investigates, we begin to get answers. These answers, however, largely tell us what we already know; that Trump was behind the siege, chaos and violence.
But as one level of the mystery is clarified it frees us to move on to even deeper causes.  The simple answers given by the mainstream media do not really address the main problem, but only hint of a deeper problem. Sometimes simple answers do more harm than good because they provide some closure and so satisfy our need for answers enough to discourage further investigation, in which case it does not occur to us that something else is happening that we do not see.
We shouldn't be satisfied with simple answers that place blame on an individual or reinforce the idea that we are a victim of what is just a dysfunctional government.
Why did Trump get elected?
Why is the government failing?
Why are we divided?
Why hasn't the promise of science and technology largely solved our problems?
Why are we spiraling backwards as a nation?
Why are attacks on democracies around the world threatening our very survival?
Why have we allowed climate change to continue?
I have the answer to all these questions. After decades of research, I set out to deliver the answer in 2000, but the very thing I set out to correct prevented my message from reaching you. It wasn't until my first book was rewritten and recently published that the main message became available again.
My mission which was originally begun in 2000, which I refer to as "The Altruistic Movement," is back again. Every day it is getting better and stronger. But we need your support. Please get this book.
For the reasons give in this book, Trump will be indicted, arrested and sent to prison. The DOJ in Washington DC must indict and arrest Trump or this nation is in grave danger.
A book that has the solution to the underlying problem.
Holographic reality explains the division in politics and society
The evidence of materialism is a projection of the establishment's belief in materialism. To be intellectual rather than anti-intellectual requires that we use our intellect to look at the beliefs and theories of the most intellectual people in the world. Those individuals are not materialists, they are quantum physicists, and include Einstein, Bohm and others.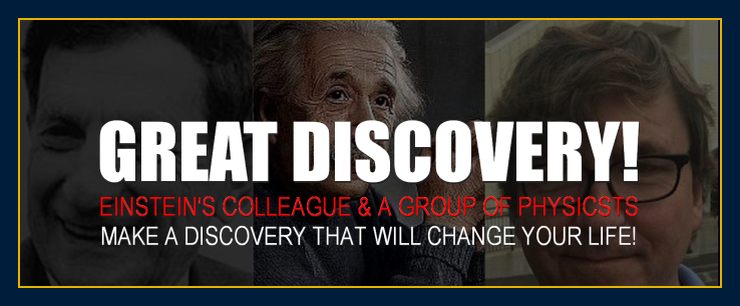 Materialists that do not use their intellect sufficiently, do not understand that what they believe is a holographic projection. Until they realize this, they are fooled by the holographic illusion.  The same applies to any belief system.
"The new paradigm explains why the new paradigm cannot be accepted, thus we have a paradox. Until acceptance occurs, acceptance cannot occur."
— William Eastwood, author of "Holographic Universe — Journey Out of the Illusion".
.
EASTWOOD
Trump and extremists believe human nature is tainted or sinful. If you are interested, we have a political section on our ThoughtsCreateMatter.com website.
Our Trump riot article has remained #1 on Bing. Read about the greatest crime in history or how far-right radicals think. We need to protect ourselves from bullies and authoritarians and the kind of future Trump's beliefs would lead to.
The people who always see evil in others create it. We need to understand the politics of division to comprehend how destructive certain beliefs are. Everything going on in this country can be understood if we consider the fact that beliefs, thoughts and emotions create events.
It is to everyone's disadvantage to elect someone who believes that people are bad. Such people will justify cruelty and corruption to achieve their aims.
We post updates so you will know if Trump is arrested. A Trump arrest would help because it would finally bring accountability to a corrupt presidency. If you want to know the minute Trump goes to jail or if it is from Mara-A Lago, or New York, we will be the first to tell you. Most of our Trump related articles have regular updates such as the grand jury post. You will want to know where Trump attacks will take place and when it is a civil war or when it will turn into a civil war.
The author's offer of assistance
---
A plan for your success.
The secret
---
"You are beautiful and the universe is kind. Do not let anyone ever say otherwise.
"If you affirm that every day, your life will be good and everything will work."
— William Eastwood.
Affirmations create your reality
---
You can choose to focus on and be grateful for everything good in your life. You can wake up and appreciate the new and original day, your existence, opportunities, the fact that you create your reality. If you do that, more of everything good will come into your life.
Neurons will be created that form connections to all those things you appreciate, forming  wiring in your brain that tunes you into everything you love. Your focus will manifest more and more of those kinds of events, despite the seeming odds against you.
"Beat all odds with my free daily affirmation and guidance page."
---
FREEDOM  POWER  CREATION  ENERGY  SUGGESTION  FORMS YOUR LIFE  AND CREATES WHO YOU ARE.  BEGIN YOUR TRUE LIFE.  BE WHO YOU WANT TO BE.  HAVE WHAT  WANT TO HAVE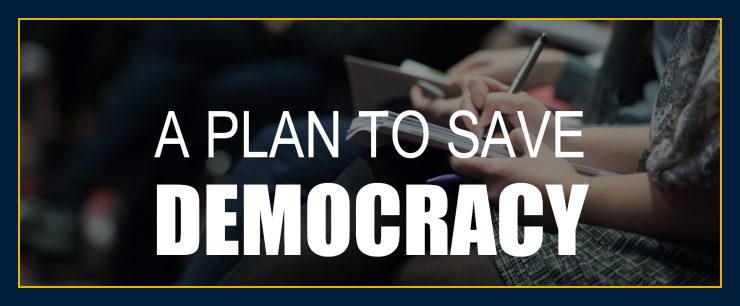 By purchasing through our trusted book manufacturer (Lulu.com) you get these books DIRECTLY FROM THE MANUFACTURER.
"Striving for social justice is the most valuable thing to do in life."
― Albert Einstein
"The world is a dangerous place to live, not because of the people who are evil, but because of the people who don't do anything about it."
― Albert Einstein
International Solutions
---
GLOBAL CONFLICT RESOLUTION
---
We are not just complaining. We are not strictly theoretical. We are engaged. We are solving world problems.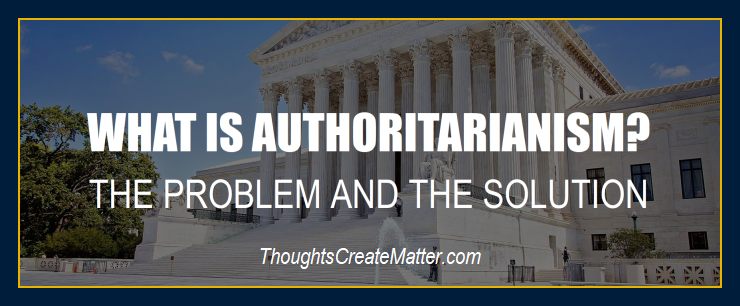 When all hope seems lost, when everything seems to go wrong, with democracy itself collapsing, is there anything that can be done?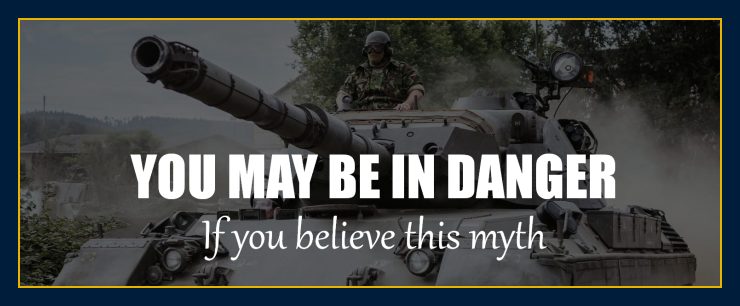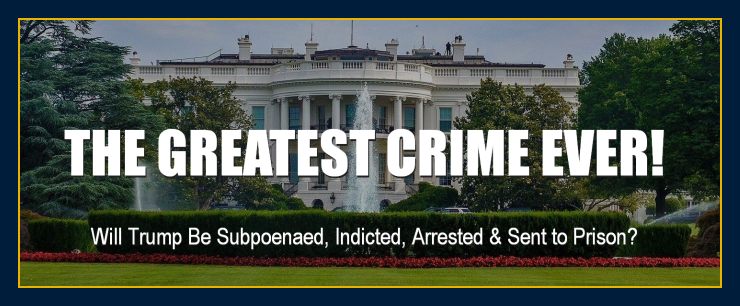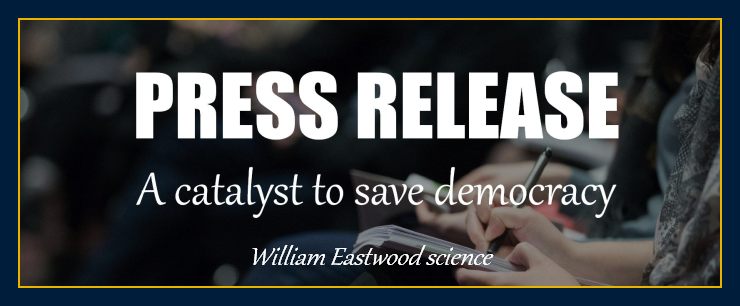 Will Trump Be Indicted, Arrested & Sent to Prison? Latest Update, Article & Book
---
© Copyright 2021, 2022,  By: William Eastwood.
Primary article concludes here.
William Eastwood is an international political influencer
A self-made outsider.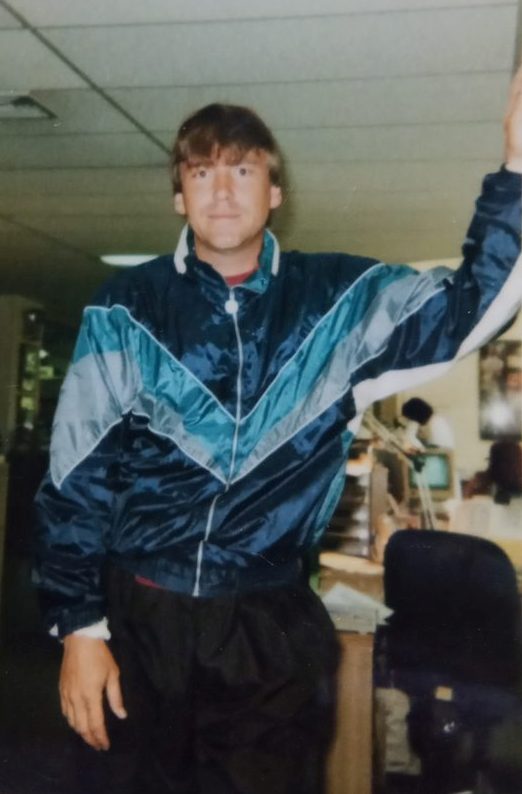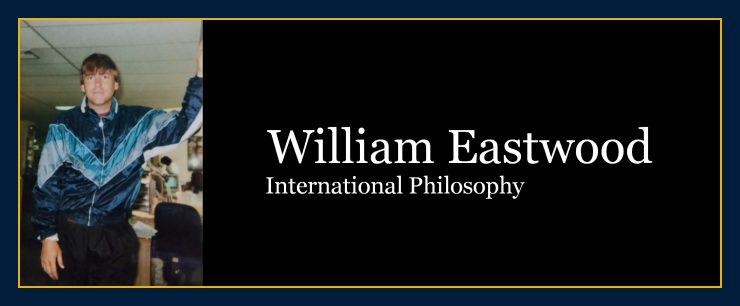 The full time-line and history of William Eastwood and his work
---
This is the most complete account on all five websites.
There are a lot of things that traditional science cannot explain that can be understood through the lens of Internal Science.
My literary agent in New York says that most people in the world today are unintelligent, and that only a sliver of intellectuals and professors are capable of understanding. I beg to differ. I explain Internal Science in ways people can understand.
Science that confirms personal spiritual experiences
---
Our traditional science tells us that a person's purpose is no more than to procreate to ensure the survival of our species — but many people have spiritual experiences that reveal there is far more meaning and purpose to a person's life — interpreted through their belief system.
Bohm's / Eastwood's paradigm says we have an inner reality that forms this world and thus can include personal spiritual experiences and the possibility of thoughts creating reality — experiences which when interpreted through Bohm's science would make perfect sense.
Physicist David Bohm, — who Albert Einstein called "a kindred spirit," and whose Ph.D. thesis — being top secret and classified — was awarded at the University of California at Berkeley by none other than Robert Oppenheimer — tells us that our reality is a holographic projection of the mind.
Bohm's science suggests an inner source reality, and the possibility of a multidimensional framework of existence in which our reality is grounded and created.
Eastwood employs Bohm's paradigm to solve world problems.
You can change the world
---
.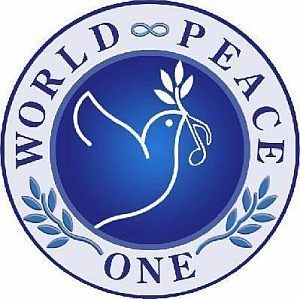 A scientific paradigm originally introduced by Albert Einstein's colleague is now being applied to stop Putin from doing further damage to nations, to protect people globally and to get grain to those in need. We can and are addressing all issues with this application.
"Americans and people in all nations need to wake up from their sleep."
— William Eastwood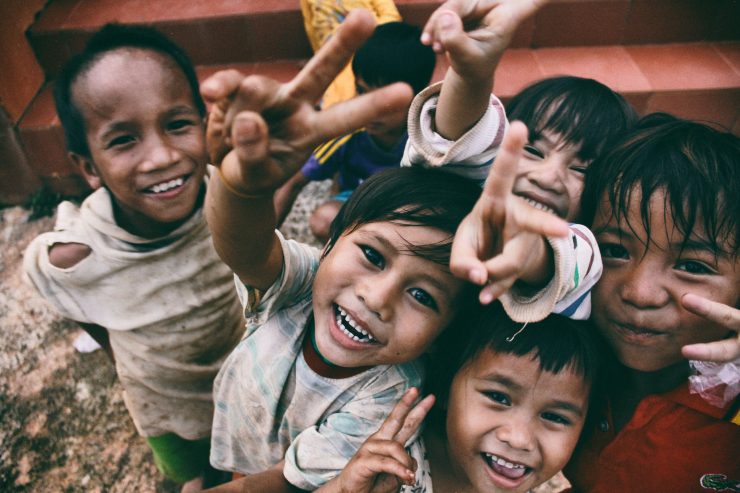 The United States Constitution is the best in the world. It was the first to set a new precedent by determining in law that all people in one nation are equal. The Altruism Code expands that concept to include all nations and codifies that principle.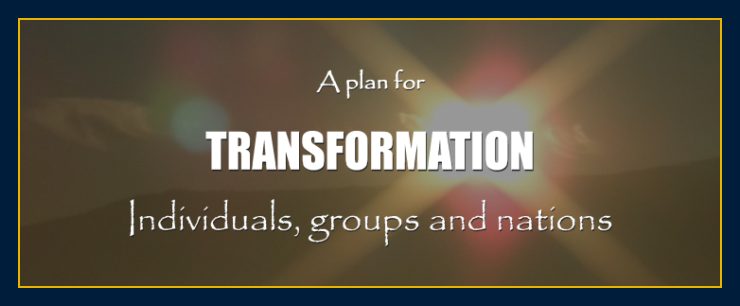 We are individuals but we are all one consciousness. We all will prevail.
---
Categories: Will Trump Be Indicted, Arrested and Sent to Prison? Latest Update, Article and Book. Why are people so divided in their thinking?, Why are Americans, politicians and the people of the world divided in their thinking?, What is the solution / resolution for world arguments and division? Cause of American political division. David Bohm's and Einstein's science. Click on our site and books to learn more.
The concepts conveyed in this website are within these books.

www.ThoughtsFormMatter.com