---

Thoughts Form Matter: Consciousness Creates Reality — William Eastwood Revolutionary Science
---
Are you a beautiful and good person?
Do your thoughts form matter?
Does consciousness create reality?
What is the holographic universe and revolutionary science?
I will answer these questions now.
Intuitive intelligence is direct knowing
---
As far as we know, neither Einstein or Bohm worked with a professor from one of the world's top ten universities at age 13, but Eastwood did. Eastwood is relatively unknown because he is an outsider who lived his life in line with a scientific paradigm that is only now beginning to be understood by the world's top physicists.
Einstein realized that "imagination is more important than knowledge," for example.
Both Einstein and Bohm give us hints of the worldview that moved William Eastwood from age seven to present. Eastwood is learned in a superior type of intelligence that can be developed by anyone. Intuitive intelligence is far superior to intellectual intelligence, although both are necessary to give us a balanced and accurate picture of reality.
You are a beautiful person and your nature is good
---
You are a beautiful person and your nature is good. That's a fact and hopefully you know that it's true, but not because of science as we have known it.
The scientific paradigm of materialism is an objective science by which our civilization largely operates. Most of us interpret our reality through that scientific lens. That kind of objective science has no way of telling if you are beautiful or if your nature is good.
I do not view reality through that lens and so I can say that I know scientifically that you are a beautiful person and that your nature is good. The science I go by is a far superior and more accurate consciousness science that takes into consideration the holographic universe principles of David Bohm's scientific paradigm.
I interpret all aspects of reality differently according to a paradigm of reality I acquired through intuitive learning outside of the mainstream. In that paradigm it is obvious that every person has unlimited intelligence within them and that time does not exist in the way we think it does. Not only are you a beautiful person and your nature is good, but you are forever.
It is my nonlinear cognition, for example, that provides my preference for photographs of myself at various ages to better depict my multidimensional present self.
What is the holographic universe?
---
The reality around you is a projection of the mind, brain and five senses, according to physicist David Bohm, who was a friend and colleague of Albert Einstein. Einstein called Bohm a "kindred spirit."
William Eastwood arrived at the same conclusion in the previous century through the paradigm of subjective science. Eastwood explains that "everyone possesses a superior form of intelligence that can easily be tapped."
Eastwood is an outsider in that he operates through subjective science — materialism / physicalism — by choice because of his early-life understanding. Eastwood says, "Only a subjective science can accurately describe a subjective universe."
---
Eastwood: The holographic universe is the reality you are in. The mind projects reality through the brain and five senses. This scientific paradigm has its origins in the findings of a group of leading 20th century scientists, but is also known in the heart and mind of each individual and all consciousness.
In recent centuries, objective science has given us a cold and uncaring universe that formed accidentally, and in a resulting process of evolution of life on earth was always hostile to the individual's good. Never did the universe care about the individual except perhaps as the individual ensured the survival of the species. The holographic universe sounds like a term that continues in this tradition. It does not.
This is a subjective science that has a heart and soul. Consciousness is universal and fundamental. Consciousness projects itself into matter. The mind constructs the physical environment and the body. Being universal and fundamental, the nature of the universe hinges on the nature of consciousness, and consciousness is altruistic.
Individuality is a very real expression of consciousness, and therefore the individual is altruistic. By its very nature, consciousness is altruistic and intelligent.
We have an intelligent and altruistic universe that comes to know itself through its individualized portions. You are the portion of this infinite, intelligent and altruistic consciousness that wears your name. 
You are the portion of this infinite, intelligent and altruistic consciousness that wears your name.
Holographic film is unique in that if you smash it into pieces, each piece will project the whole image projected by the entire film before it was smashed. In the same way, the holographic universe paradigm tells us that the individual projects the whole universe. This is only possible because on deep inner levels the individual is connected to the entire universe. Individuality does not contradict unity. The altruistic intelligence of the entire universe is expressed through individuality. In a way, each individual is a different version of the universe.
Because the universe is of good intent, so is the individual. However, the individual is given freedom. This means that the individual can believe otherwise. When this happens the individual projects his or her beliefs into events that reflect the belief that the individual is not altruistic. The nature of your life reflects what you believe you are. Your life reflects your beliefs as to the nature of reality. If you believe that reality is cruel and competitive, then that will be your reality. This is the mistake the human race is making.
This is why Albert Einstein said that believing that the universe is friendly is so important.
In the holographic universe paradigm, we create our reality. Each individual is the author of their reality. When you believe that the universe is altruistic and cooperative your beliefs are in line with the intrinsic reality of consciousness. If you believe that the universe is uncaring and that you are undeserving, then you project that set of beliefs as your reality. You are creating what you believe, think and feel. If your assumptions are negative, that is what you create and experience. This is why I say that we must believe we are good and base our civilization on this firm belief in our goodness.
In fact, because we have not been doing that we have division and chaos. Poor behavior, incarceration and division are a product of the negative and inaccurate mainstream materialism paradigm (materialism / physicalism) expressed as the beliefs, thoughts, feelings and resulting behavior of the individual.
You are a beautiful person and your nature is good. 
You are good and the universe is kind.
You must believe that. It is true.
45

William Eastwood's 45-years of research brings you everything you ever wanted!
YOU ARE A BEAUTIFUL PERSON
---
Why subjective science is superior
---
Intuition is direct knowing; intellect is having to figure out what is true because of a lack of direct knowing. Animal intelligence is not inferior to human intelligence, it is just different, and what we call instinct is actually direct knowing without thinking.
There is no evolution in time because all times exist now. Einstein began to realize this later in his life. We did not evolve into the superior species. We are consciousnesses as is everything, and consciousness has many types of intelligence and senses.
The heart and brain are receivers. The heart is intuitive. The heart just knows. It is also the part of you that keeps you alive. The body is involved with direct knowing.
Objective science, by its nature, filters out love and meaning. It's net cannot catch anything that matters and so of course its final conclusion is a meaningless universe. My view of reality is not objective, but subjective. A different kind of science is involved and this is why I describe it as revolutionary.
Holographic reality sounds like objective science. I use the term "holographic" because that is the most descriptive scientific term, not because it sounds warm and fuzzy.
Reality is warm and fuzzy. Reality or consciousness is drenched in meaning and love. Love is at its center and forms even the least significant seeming object. Reality is love and beauty. There is nothing else. Atoms are manifestations of magic and love. There is no such thing as a cold, detached and unknown dead physical object in the way traditional science has thought of an atom or physical object. Instead, objects are illusions that are projections of our senses. There is a reality behind the image we see. Objects are living projections of consciousness. An object is an action. There are no nouns. A person, place or thing is an event. Each "thing" is full of multidimensional light and meaning, spiraling endlessly through dimensions and revealing a different face any given world.
45

William Eastwood's 45-years of research brings you everything you ever wanted!
YOU ARE A BEAUTIFUL PERSON
---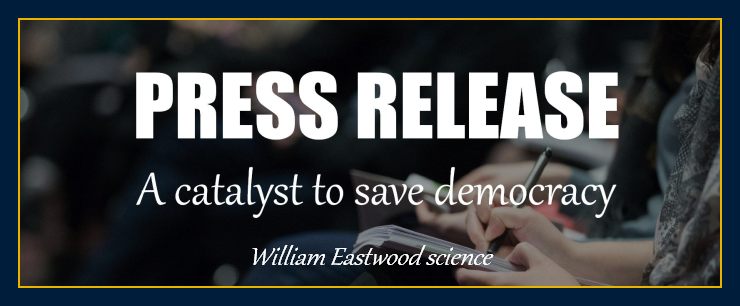 45

William Eastwood's 45-years of research brings you everything you ever wanted!
Advanced scientific audiobook — just listen and your subconscious will create what you tell it you want!
NEW RELEASE AUDIO BOOK BY WILLIAM EASTWOOD
Based on the advanced scientific paradigm of Albert Einstein's colleague, David Bohm and "The Solution to All of Humanity's Problems..."
As a race, because of our official belief systems, we are looking at reality, life and human nature through the lens of dark and foreboding theories which are nonsensical.
We are told people are spoilers of the planet, fools bound to destroy themselves. But if people are bound to destroy civilization, why did people ever work together to create a civilization? What force within us caused us to band together initially?
And what about those deeper feelings we have toward one another? We wouldn't hate people if we didn't judge them against an inner love. That inner love we have toward others leads us to expect more from them. Hate actually comes from love. We expect more of those we love than those we do not care about.
Our official belief systems say we are selfish, isolated beings. The fact is, however, that we have a deep bond with all humans and are more alike than we admit. Did you ever notice that strangers you open up to often remind you of family members? The common traits are there if you look for them.  What you are seeing in these instances is the nature of consciousness. It is the same in all humans and life.
People rarely turn on others unless someone first mistreats them. That mistreatment only happens because they are misunderstood. They are only misunderstood because of the myths I have brought to your attention.
Most people realize that they themselves are good. This realization usually extends to family members and close friends. However, because our societies do not generally recognize the spiritual goodness within the physical world, we have tried to inoculate ourselves from ourselves.
Everything seems to be against us. From viruses to the Department of Motor Vehicles, the objective world seems to be out to get us. Our institutions, for example, do not trust us and therefore we are held in bonds. We are not really free until we recognize we are and realize our complete rightness, goodness and vitality.
Overall, philosophies and cults arising from both religion and science have taught us to hate ourselves, our bodies and our nature. We cannot fully accept our vitality and rightness. As a result, many people have become bitter toward others. Nor can we understand reality, find happiness and achieve our goals. We must be in the right paradigm first.
Cults and division are a result of the failure of mainstream science. The fierce divisions in society such as was demonstrated by the January 6th attack of the United States Capitol are due to antagonism toward intellectual and religious ideas on which those institutions are built and convey. We project our negative beliefs onto others. From our point of view, they absorb the hatred our distortions generate.
You are a beautiful person and your nature is good. Our civilization will fail if we do not acknowledge and accept our true good nature and actual reality.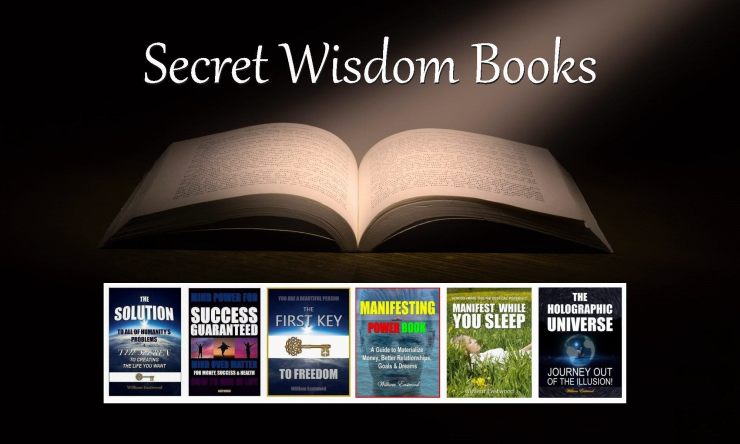 ---
You Are a Beautiful.
The Human Soul is Good.
The Spirit Is Altruistic.
Reasons Why the Soul & All People
Are Altruistic Inside
Einstein tells us we need to believe we live in a friendly universe
---
Einstein said there is one decision we make every day that determines whether or not we live a happy life.
"The most important decision we make,"
Einstein said,
"is whether we believe we live in a friendly or a hostile universe."
Why believing people are good helps you
---
Whether we believe people are good (friendly and helpful) or not, is even more important than believing the universe is friendly. Because your beliefs form your reality, believing people are friendly and helpful may be the most beneficial belief you can hold.
Everything important comes through other people. Your job or career, your customers and profits, friendships and lovers.
If you do not already firmly believe people are good, your life will have many voids. Kindness, friendship and opportunities will be in short supply.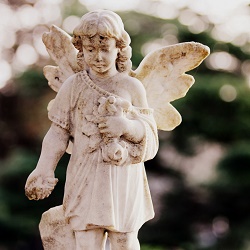 Affirmations like, "people like me and I like people," or "the universe is a friendly place and all the help and money I need is everywhere," are what you should be telling yourself every day.
This is how you use the law of attraction and the law that beliefs create in the most intelligent and effective way possible.
Your worldview is your key to success. The firm conviction that people are good is the bedrock of a solid worldview. This core belief will insure a long, rich, fulfilling and thriving life.
It will certainly bring you love, friendship and happiness in life.
.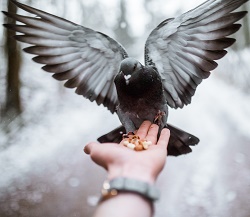 When we are depressed, the universe seems to be random and unsympathetic, even cruel. We become victims of everything.
Some people spend their entire lives holding this core belief, and they might not even be aware of it. They live as though they are victims to their circumstances.
The world, to them, is threatening and something to protect themselves from. Because their beliefs form their reality, this is what they manifest as their reality.
Focusing on human goodness is one of the best things you can do. If you want prosperity and happiness, consider how good people really are, yourself included.
HUMAN GOODNESS Philanthropy on the rise
Do you believe that you are a beautiful person?
---
You are a beautiful person, but what you believe is what is most important. You may not be completely convinced of your goodness because we do not always get the message from society that we are beautiful, good souls.
Punishment is a human concept based on the idea that we are broken.
Even if you do not punish yourself consciously, it is common to have achievement ceilings related to one's internal sense of how much they deserve.
Believe in yourself and trust yourself, your energy and your strength. Base your life on your strength and successes.
Beliefs are like software installed in a computer in that our beliefs tell us how to function in the same way that a software tells a computer how to function. We know that faulty software in a computer will make that computer malfunction, and so it is the same for faulty beliefs. Our beliefs and the resulting behaviors they generate do not suggest that we are bad any more than faulty software suggests a computer is flawed.
Life is not at all as we have been told. The physical world is not an isolated system consisting of combative lifeforms. Instead, all physical matter and all beings are consciousness projected into time-space coordinates.
The development of ego consciousness was once contingent on a sense of separation from other life. Our new type of "ego consciousness" (our brand of perception) is now secure and we must reconnect with our extended reality or we risk destruction.
The ruthless dictators in the world are an example of what happens when we are cut off from our extended reality. Our extended reality consists of more of what we are and hidden potentials. We can call it an expanded awareness. We can even call it compassion. It is a quality of awareness that we attribute to mystics and empaths, but it is in all of us.
Try all of my articles to see what works for you.
Inclusiveness is an extended identification with others and nature which is characteristic of children and people we like who are compassionate and care about us. Historically, we have considered women to be more compassionate than men. Now it is necessary for everyone to become compassionate and intuitive.
Our philosophies and institutions have brought us too far away from those qualities of compassion and "direct knowing" which we associate with saints and sages, empaths and mystics. As a race, we have gone too far in our form of ego separation.
If you are unsure what I am saying we are separated from then this may apply to you. You are filled with a fantastic potential and capacity for love and caring. A deep and infinite knowledge is within you. You can immensely enrich your life by expanding your awareness and tapping into a kind of direct knowing or intuitive comprehension. As this happens to more and more people we will come to care about others more deeply than ever before and we will believe that we are good and that the universe is friendly.
What is the holographic universe?
---
The reality around you is a projection of the mind, brain and five senses according to David Bohm, the most influential physicist of the 20th century and friend of Albert Einstein. 
When the science came out, I had already been testing it for over five years.
William Eastwood revolutionary science
---
The holographic universe is just a concept to most people but not to me. I lived my life according to the principles of the holographic universe paradigm before Bohm even published "Wholeness and the Implicate Order," a book that introduced the concept of the holographic universe to the world. When Bohm was studying the science I was applying it.
---
"Since 1975 I evaluated the practical application of the holographic universe paradigm by making myself and my life the guinea pig. I was the experimental subject."
— William Eastwood
---
Read my book, "The Holographic Universe…" advertised below by scrolling down, or click directly below to learn about my study.
My appearance and reality had changed considerably five years into the study.
William Eastwood

—

Five years after the study began
---
Your mind, brain and five senses project your reality. I discovered this in the 1970's, years before Bohm published "Wholeness and the Implicate Order" in 1980.
A conflict arose between the U.S. government and Bohm, and something similar happened to me. Despite Einstein helping Bohm to stay at Princeton, Bohm was forced to leave the U.S.  This kind of situation is not uncommon.
Despite Einstein imploring Princeton to keep Bohm as a university professor at Princeton, Bohm was forced to leave the U.S. As a result he became immensely successful and internationally acclaimed as the 20th century's most influential quantum physicist.
In 1979 (above) I began experiencing fantastic success applying holographic reality principles of practical application. It wasn't until I was 37 that a conflict developed between my written thoughts, my research journals and the government. I explain why this kind of thing happens in my books.
---
How did a thirteen-year-old kid manage to retain a Yale University professor's request to work on the design of a secret invention at a private research facility? …on his own without anyone helping him?
"It was because at age 12, I applied a simple principle," says William Eastwood.
What William Eastwood discovered in the 1970's in his youth, YEARS BEFORE Einstein's friend, David Bohm published "Wholeness and the Implicate Order" in the 1980s, was a secret about the universe.
"When the science came out," Eastwood adds, "I had already been testing it for over five years. By the time I was 22, I owned three large historic homes on the coast of Maine. And I credit the worldview given in this book for all of those achievements."
Do your thoughts form matter?

Does consciousness create reality?
---
"Each person reads and experiences reality according to what they believe exists. If they hold a view of reality within themselves that is inherently limiting and/or negative, then this inner subjective reality and nothing else is projected outward into events and experiences so that everything conforms with their beliefs. They then cannot see anything outside of their own worldview. In effect, they become blind to any information that would free them from their inner and outer restricted reality.
"The negative focus on perceived enemies or opposition combined with the overlooked and unchecked power of consciousness and focus has been causing the world severe problems for a very long time only because we do not see the obvious.
"The solution is to understand that consciousness is altruistic.
"The people that seem evil don't believe that the human spirit is basically good, and that's the problem.
"My work is to explain that this is a scientifically validated fact in order to bring an end to global conflict and assist humanity in advancing into a new stage of incredible fulfillment, both private and public."
— William Eastwood
Post/page resumes here.
More has been held back:

Eastwood's book
---
In his recently published book, "THE HOLOGRAPHIC UNIVERSE  —Journey Out of the Illusion," Eastwood explains:
"Einstein's colleague and a group of leading physicists made a discovery that was never properly conveyed to the public. It was too profound to be accepted in the mainstream and threatened the elite. As a result, we were not made aware of this discovery and the inevitable implications it had for civilization itself.
Specifically, it takes power away from those who hold it over others and invests the common man with power and control over his destiny."
— William Eastwood
Click above to learn more
CONSCIOUSNESS IS A STATE OF MATTER: MIT
NBC NEWS REPORTS Universe is Conscious
Holographic reality tells us that the mind projects your beliefs, thoughts and emotions into matter. What you experience in life is a holographic projection of your thoughts.
I know readers just want the practical information gleaned from my study, so I am including practical insights for your benefit. Here is what I learned.
Insights gained in William Eastwood's 45 year study
---
Do you feel stuck in life and in the same think day in and day out?
Repeating patterns are a result of stubborn beliefs, thoughts and emotions. Any physical changes we make must be accompanied by a change of primary beliefs, thoughts and emotions.
Beliefs generate thoughts and emotions
---
It all starts with beliefs. Your beliefs generate your thinking and emotions.
Both beliefs and thoughts will automatically cause you to feel a certain way and all three will manifest as your physical reality. Your beliefs, thoughts and emotions create all elements of your day-to-day experience.
Anything that happens to you can be traced back to the belief, thought or emotion that created it. If there is any part of your life you dislike, change your thinking in that area and those changes will be manifest in those components of your life.
Righteousness is being who you really are in thought and emotion (rather than the small, unsuccessful self).
Awaken to the powerful and successful person you are destined to become and really are inside. You can have what you want in life if you make the right effort with the right knowledge.
Most of us are conditioned to change the physical without making the necessary internal changes first. This seldom works. If we neglect to make the proper internal change, our life finds a way to revert back to our old patterns of experience.
Decide what you want and how you want to feel and develop a program that keeps you focused on the new life you are creating. If you maintain the proper emotional state during most of the day success is likely.
High expectations and positive thoughts and emotions when unopposed by contrary thinking will allow you to create what you desire in your life.
Metaphysical principles work well when applied intermittently. It can be effective to use a structured ten-minute manifesting session for a specific goal once a day for two weeks, followed by two weeks applying structured manifesting for a different desire.
Mental images, beliefs, thoughts and emotions manifest as either events or objects. Faith and trust provide the pathway.
Desire and willpower provides the fuel to help drive the process.
You can think freely about what you want as often as you want. Keep your purpose in mind, remain positive, and visualize and affirm as often as you want.
Observe what happens when applying these principles. Pay attention to your reactions and suggestions. Do you think maybe this will work? Do you think "I hope it will work?" Or do you think it will work?
If you say it will work, see it in your mind's eye, feel it in your bones and repeat it every day, you will create it.
Your thoughts go out and do your will.
A mental image contains a kind of DNA or barcode that serves as a blueprint and guideline to change its form into matter in the same way a caterpillar has DNA that tells it how to form into a butterfly. The seed you create in a mental image of what you desire has a built-in impetus to propel itself into matter. It gathers more energy and motivates you in such a way as to bring the imagined event to physical fruition.
Changing probabilities
---
You can leave probabilities and then rejoin them again in your future. If you experienced success in an activity or pursuit you loved earlier in your life, but discontinued that course of action, you can reenter that probability. To do so, dwell on what you want and the activities you would be doing had you continued that line of probabilities. If you do so consistently you will attract elements of the past probability into your experience.
In retrospect you can see these turning points in your life.
Look at what you did in advance of turning points in your past. This can be very valuable knowledge. Apply whatever worked then to create a beneficial shift now.
Scroll down to continue reading article.
Do your thoughts form matter? Does consciousness create reality?
Post/page resumes here.
Do your thoughts form matter? Does consciousness create reality?
Do your thoughts form matter?
---
Do your thoughts form matter? Does consciousness create reality?
Bernard d'Espagnat states that the existence of physical objects is dependent on our consciousness and that this has been proven empirically.
"The doctrine that the world is made up of objects whose existence is independent of human consciousness turns out to be in conflict with quantum mechanics and with facts established by experiment."
Your thoughts form matter as automatically as you breath
---
You create events with your thoughts as automatically and effortlessly as you create words when you speak. You do not consciously make your heart beat, digest your food or speak words, it just happens with your intent.
You do not tell the cells what to do in your leg to walk across the floor, you just visualize, desire and intend a destination and your body does all the work to bring you to that destination.
Over 60 trillion cells do all the work for you.
Your beliefs, thoughts, emotions, desires and intent create events in the same way your intent is followed through by 60+ trillion cells. It is as certain as your breathing. It is all taken care of for you on a subconscious level.
Events are expression. They are a reflection of the person who creates them. They are composed of the originator's psychological energy. For this reason, your environment is a mirror of your thoughts and emotions.
There is a knack and skill for creating positive events that is a dance between your thoughts and actions. You must act on your thoughts in the most logical and efficient ways to create things, but you must also be open to new ways of bringing things into your life. Most important is to read events properly and to continue to focus on receiving what you desire. Focus on the wish fulfilled and work with the mind to attract the most desirable events available to you.
Your free will is limited according to the range of probabilities open for manifestation. Your conscious thought determines the available probable experiences. You must think on the subjects you wish to materialize. The more thinking is done on what you want the greater the probabilities available.
To increase your range of available choices in life, contemplate and obtain the psychological state that would occur if you had already achieved your goals.
Do your thoughts form matter? Does consciousness create reality?
Thoughts form matter in the same way your intent forms words
---
The words on a computer monitor, phone, or book do not contain the information they convey. When a person talks to you, the words you hear do not contain the insights they are communicating to you.
So, where is the information?
When you learned the alphabet in grade school you learned to attribute meaning to letters, words and sentences.
At one time you had to learn what a house was. After you learned what a house was, then you learned to associate that experience with the letters in the word "house."
Sometime before preschool the word "house" was meaningless to you. It is only after you gain experience and are taught what words represent that you can seem to glean information from written and spoken language. Therefore, the information comes from within you.
When you read a book, you are activating memories and experiences within yourself. Those memories and experiences do not come from the book. The book does not contain any information to be passed to you but only triggers recall in you.
When a house is mentioned in conversation you retrieve that inner knowledge about what a house is compiled within you in accordance with all your experiences and memories associated with the meaning of "house."
The information as to what the words or letters mean is in your own head. It is not in the book, and it is not in the words people speak.
This is an important point because the same holds true of physical objects and events. They are symbols that stand for something else.
Every object and event are a materialization of the much richer and more amazing primary psychological causal reality.
The wave state of matter physicists have recently discovered, is only an initial hint and glimmering of a reality, that once discovered will transform our civilization's understanding of reality.
.
---
"My brain is only a receiver, in the Universe there is a core from which we obtain knowledge, strength and inspiration. I have not penetrated into the secrets of this core, but I know that it exists."
– Nikola Tesla
---
Thoughts form matter. Consciousness creates reality.
"Enthusiasm" is a Greek word for "in God." Live in the moment with enthusiasm.
Like the words you speak, your environment is an expression of what you are in symbolic form. Your life experiences express what you have been thinking and feeling. Life is showing you your thoughts and emotions in form.
Events are flowing byproducts of our thinking in the same way words are. We speak them. They naturally form from our intent and thinking in the same way words do.
Quantum mechanics deals with facts, plain and simple, yet as a civilization we still do not base our lives and understanding of reality on these facts. This site and EN books do.
The concepts presented to you here are thus much more accurate and powerful than current classical physics-based science, mainstream psychology and previous self-help methods of achievement.
Helping you to create the life you want.
THE MOST ADVANCED SCIENCE IN THE WORLD TODAY
RESEARCH SINCE 1975
Everything you need to know to create anything and solve any problem, public or private.
45

EARTH NETWORK resource of reference articles — a culmination of 45 years of research and application
"Civilization must be based on a single accurate science in order to heal division and function properly." — William Eastwood
FOUR SCIENTIFIC EDUCATIONAL SITES — ONE PHILOSOPHY
Holographic reality explains why people see what they want to see.
Do your thoughts form matter?
---
Yes, your thoughts can and do form matter.  Thoughts form matter and consciousness creates reality. After you have a thought, it continues to exist. If you make the effort, you can learn to follow your thoughts as they fall down through levels of your consciousness into the subconscious and inner conscious levels.
Eventually, following a precise and definite algorithm, thoughts evolve into probable events. Depending on a variety of factors your thoughts may then form matter, events, conditions and objects. Their appearance as virtual particles is even observable.
Physicists now know that electromagnetic fields form particles. Scientists observe electromagnetic energy forming virtual particles in the Zero Point Field (ZPF). Your thoughts do form matter, and your consciousness creates your reality.
QUANTUM PHYSICS MIND-BRAIN MODEL
Do your thoughts really form matter?
---
Your thoughts really can and do create your reality! Physical reality is an electromagnetic holographic projection of our thoughts. The most prominent 20th century scientist, David Bohm, gives us the paradigm that explains how reality is a projection of the five senses (below).
Do your thoughts form matter? Does consciousness create reality?
"We have built a civilization on the division between mind and matter, yet both are the same—consciousness and matter are both composed of electromagnetic fields. 
A single thought you have in this moment is amazing and transformative. It can change your entire reality in the moment you are within.
NBC NEWS REPORTS Universe is Conscious
If your thoughts really do form matter, how is that possible?
---
Your thoughts absolutely can and do form matter. Your own consciousness creates your reality. Each person alive creates their physical reality by the nature of their beliefs, thoughts and emotions.
To change anything, you must change your thinking and emotions. There is no other way to change anything. Physically forced changes will not endure unless they correspond with changes in thoughts and emotions.
The thoughts you think continue to exist and pass through the subconscious to a deeper area where they combine with similar thoughts. As you focus on what you desire to create, energy is added to the original thought. An evolution occurs here.
The balance of your thoughts manifest according to the local laws of physics which our civilization believes in and ratifies.
We project what we believe into events. Holographic reality explains why people see what they want to see.
.
Thank You
I thank everyone that has made contributions, and those who have purchased books. I would not have been able to do it without you!

According to Albert Einstein's colleague David Bohm, the mind projects the events we then perceive, but before Bohm even introduced "Wholeness and the Implicate Order" in 1980, Eastwood was testing the principle to help people achieve goals and solve world problems.
Now
---
"When I was very young I discovered a fantastic way of thinking about reality that can solve world problems and help people achieve their dreams. And so now I am an author of books designed to help people use that wisdom to achieve anything they want."
— William Eastwood
"I spent over 45 years researching the ability of this scientific paradigm to help people achieve their goals and to solve world problems. It was startlingly effective. The only problems I experienced came for people and institutions whose beliefs were threatened by the new ideas I was studying.
"I AM GOING TO HELP PEOPLE AND HELP THE WORLD—THAT'S MY MISSION
"What I discovered early in life led me to a whole new way of thinking that I believe can change the world for the better. My specialty is system of application based on my own and David Bohm's science. This way of looking at the world and achieving goals can release individual potential and can bring humanity to a new level."
Scientific synchronicity and personal power from a 45-year study.
As far as we know, neither Albert Einstein or physicist David Bohm worked with a professor from one of the world's top ten universities at age 13, but Eastwood did.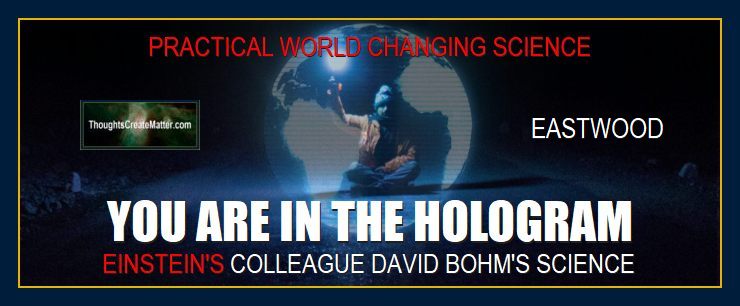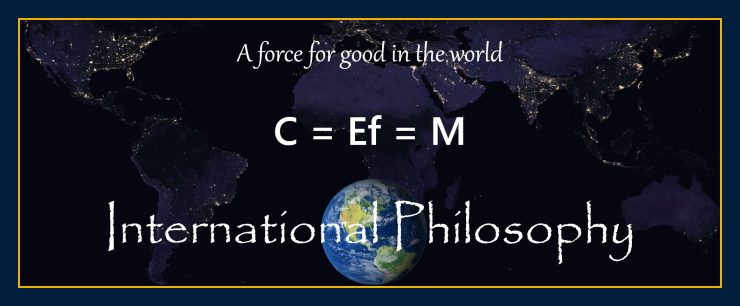 The cause of problems in the U.S. is the same cause of the Putin terror war. The reason why democracies are failing worldwide is because we have missed the science that holds that answer to prevent the actual collapse of civilization itself. Had Albert Einstein been successful defending physicist David Bohm in 1949, this scientific paradigm may have replaced physicalism as our world's accepted science. Documentation Princeton University.
Eastwood's ancestors include two kings of England
---
"That," he says, "is not important.
"What we are doing now is far more significant. A long time ago one of my ancestors signed the Magna Carta, and another founded the capital of the constitution state in America, but that is nothing compared to what we are accomplishing now."
A world without borders
---
.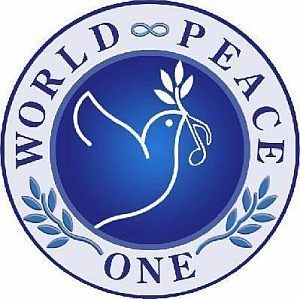 A scientific paradigm originally introduced by Albert Einstein's colleague is now being applied to stop Putin from doing further damage to nations, to protect people globally and to get grain to those in need. We can and are addressing all issues with this application.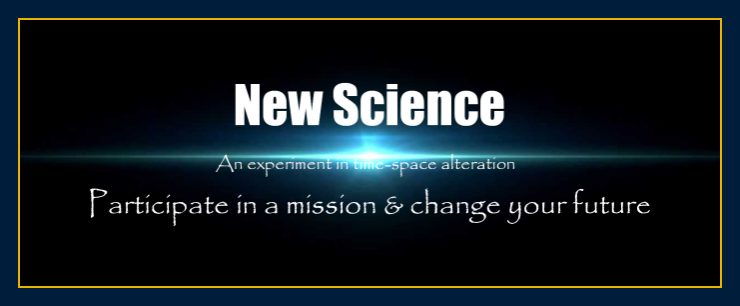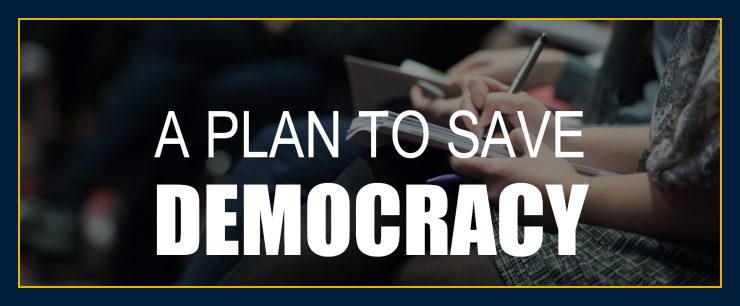 45

William Eastwood's 45-years of research brings you everything you ever wanted!
Become powerful.
Create wealth.
Manifest your dreams.
The most generous advice.
The most experience.
Create anything you want LIKE MAGIC
---
Click on our affirmation page once or twice a day, or as time allows when it is convenient for you to do so. It is the best habit you can possibly develop if you want your life to work.
By taking a few seconds to read through affirmations, instantaneous connections are made to your best memories and most powerful experiences on a subconscious level. This allows for positive energy and ideas to enter your consciousness and find a way to change your state of mind, increase your enthusiasm, and motivate you and change your circumstances for the better. Just reading lists of affirmations daily can make a huge difference in your life, keeping you positive, strong, on-track to your goals, balanced and consistent. Most importantly, positive thoughts — focused on in specific ways — will manifest desirable changes in your life. I am providing you with a path to success like nothing you have ever experienced before.
Your life is a projection of the life-force within inner levels of your being we reach with certain affirmations. This is living energy that does your will. This is not a frivolous activity, rather, it is the most logical and direct path to eliminating blocks and achieving your goals. In the same way that good food helps your body, these affirmations give you life-force substance that begins building events in the direction you choose. It's how you control and direct your life, and in this case for the better.
If you follow my advice and apply these processes correctly, you absolutely will transform your life like magic.
Create anything you want LIKE MAGIC
45

William Eastwood's 45-years of research brings you everything you ever wanted!
Advanced scientific audiobook — just listen and your subconscious will create what you tell it you want!
NEW RELEASE AUDIO BOOK BY WILLIAM EASTWOOD
Based on the advanced scientific paradigm of Albert Einstein's colleague, David Bohm and "The Solution to All of Humanity's Problems..."
"I WILL TELL YOU HOW YOU CAN CREATE ANYTHING YOU WANT"
---
Click image for available William Eastwood books
By purchasing through our trusted book manufacturer (Lulu.com) you get these books DIRECTLY FROM THE MANUFACTURER.
Get all this information directly from the source — Earth Network books
45 EASTWOOD
45 years of research goes into every book
---
The purpose of Earth Network books and our free advice, is to provide you with all you need to know to be successful in all areas—in intellectual and spiritual knowledge, business, finance, health, love and relationships.
Say thanks
---
Say thanks with a book order so that I can continue to bring this information to you.
"If you do good things, good things will happen to you."
— William Eastwood quote at age seven.
"When you buy a book here you are doing a good thing because all proceeds are used to help people struggling in over 170 countries. Our clients who do not have any money to buy books rely on you to fund this website through book purchases."
— William Eastwood
By purchasing through Lulu.com (above) you get these books DIRECTLY FROM THE MANUFACTURER and cut out the middleman! — most reliable source — fastest delivery — lowest price.
Thoughts Form Matter: Consciousness Creates Reality
© Copyright 2020, 2021, 2022, By: William Eastwood
Primary article concludes here.
Four free Earth Network websites and over 100 articles
---
FOUR SCIENTIFIC EDUCATIONAL SITES — ONE PHILOSOPHY
A singleAMAZING philosophy!
100's of articles!
4 EN websites!
They are meant to be used together.
Click between them!
Click below for master page.
---
Categories: A new nonclassical science disproves classical physics. Can thoughts form matter? Yes, regardless of what anyone says, thoughts do form matter. Thoughts are the first stage of matter. Consciousness creates matter and reality. Learn the science and application here: Thoughts form matter, quantum physics. Thoughts can and do form matter, and influence events and reality. Learn how your consciousness (mind) can influence people and events. Metaphysical manifesting self-help books. Click on our site and books to learn more.