---

EN: EARTH NETWORK: © Copyright 2018 by: EN: All Rights Reserved.
Why is Ocean Water Rising? Reason for Sea Level Rise, Climate Change & Global Warming
The Oceans Are Rising Because of Deeper Reasons
---
Part two: Causes in Human Psychology
Click Image for EN founder's video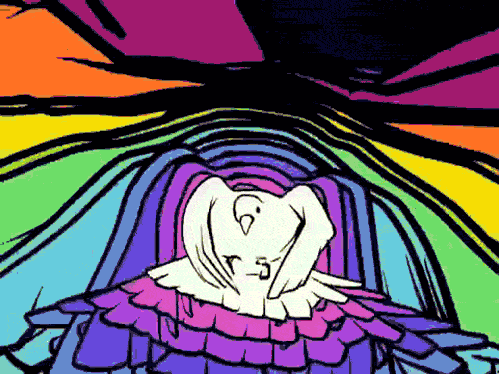 You create your reality with your thoughts. You have an amazing opportunity to create anything you want in life.
Click here if you want a Quantum Leap
Understanding anything on an intellectual level is an important and necessary preliminary. Real understanding, however, comes with emotional comprehension.
You cannot apply the principles of belief, thought & emotion manifestation with any significant level of success without a baseline emotional comprehension.
The way we were told reality works, is that physical matter is detached, something apart from us and unresponsive to our desires and needs. As a result, we automatically process all information accordingly.
It is as if we are deeply cognizant of the "fact" that our thoughts and emotions do not form our reality, when in fact this is an emotionally-held hypnotic belief, or myth.
This  way of approaching life has been emotionally assimilated and it is our baseline approach. This must change if we are going to have any success with metaphysics.
A Quantum Leap is an emotional leap. It is the final factor needed; the emotional comprehension of an idea, principal or paradigm.
The way to change our baseline approach to life, is to study the metaphysical principles on an intellectual and emotional level, and then to deliberately replace the old paradigm with the new metaphysical truth.
When it all clicks emotionally, that is when it will really work in our lives.
This idea that our reality and other people are separate and apart from us is so deeply internalized that we have intellectually and emotionally lost a sense of control and power. Most people who are learning these concepts on my website have one foot in the mythical trance-like worldview held by the entire civilization, and one foot in the metaphysical worldview.
Most of us get it intellectually, but not emotionally. The emotional factor is where we go wrong. This is really just another way of saying that we don't really believe what we say we do on an intellectual level.
This means that most people that are learning these concepts have a lot of beliefs that are in conflict. If you don't want to be ineffective and divided like the majority, you must work on your belief system in order to assimilate the ideas intellectually and then emotionally.
Your objective should be to get to the point where you can make these principles  of manifestation work in your life. That is primarily an emotional accomplishment. That is one important reason why I am introducing video here that conveys emotional understanding.
This site has a variety of stimuli to emotionally reinforce and contribute to what you are learning on an intellectual level.
I cover as many subjects as possible in my websites, and I include daily affirmations and guidance to help you learn on both an intellectual and emotional level, so that you can apply the principles successfully in your own life.
The purpose of all of this is to help you create the life you want.
Click on any rotating earth on this website to navigate to daily affirmations and guidance.
What is consciousness?
Consciousness is not only the act of perception, it is the stuff of reality. Perception and reality are the same thing. In an analogy, if you compared reality to the words in a written sentence, there would be no nouns, only verbs.
Theory & Science of Consciousness
Click button below for the best explanation of how reality is an ongoing projection of consciousness.
Learn Exactly How Reality is Created
Consciousness is spiritual essence and is indestructible. It has always existed and always will.
Any given unit of consciousness contains the knowledge of the whole.  Like holographic film, if you destroyed all but the last, most minuscule portion of consciousness, that tiny speck of consciousness could recreate the entire universe.
Consciousness is continuous. Consciousness cannot be defined any more than you can define yourself, eternity and All-That-Is.
The official scientific establishment does not know what electromagnetic energy or anything is!

 
The Scientific Establishment Does Not Know What Anything Is (Physical Matter / Electromagnetic Energy)
HISTORY OF SCIENCE Why it made mistakes

Matter is a state of consciousness. For the best  scientific confirmation of this, click on button below.
Consciousness is a State of Matter: MIT
THE SOLUTION to All of Humanity's Problems
Is consciousness fundamental?
Yes! Science is reductionist, which means scientific methods break systems down to understand their parts. However, consciousness is the most fundamental of all phenomena and can't be broken down.
The mechanistic paradigm  is about to collapse 
The entire scientific paradigm has to be discarded to accommodate consciousness. The reason being, is because consciousness is fundamental and everything is an expression of consciousness.
This fact runs directly contrary to the  widely accepted existing scientific paradigm. The mechanistic worldview on which Western civilization is built is based on a faulty premise.
The Scientific Establishment Does Not Know What Anything Is (Physical Matter / Electromagnetic Energy)
HISTORY OF SCIENCE Why it made mistakes

Theory & Science of Consciousness
The Brain Does Not Create Consciousness

Matter is a manifestation of consciousness, as confirmed by rogue MIT quantum physicist. Click on button below for scientific validation.
Consciousness is a State of Matter: MIT
THE SOLUTION to All of Humanity's Problems
The High Rate of Global Warming
Earth's rate of global warming is equal to about 500,000 hiroshima bombs a day. (Based on a 400,000 estimate in 2013.)
We use the Earth's atmosphere as if it were a personal dumpster for our toxic waste. All the world's nations combined are dumping over 38 billion tons of carbon dioxide into the air each year. Donald Trump, who says there is no problem, is a symptom of the underlying deeper reason why we are destroying our planet that I will explore later in the article.
Projections and Mass Migrations
The rate at which ocean water is rising is more than environmentalists expected. People are not yet moving out of Florida, but in some areas of the US property values are not rising as fast for areas prone to flooding.
In other countries, however, migrations have already begun. Entire populations are on the move.
The National Oceanographic and Atmospheric Administration's most recent worst-case estimates call for a 2-foot sea level rise by 2060 and more than 6 feet by 2100.
Dramatic changes will sweep civilization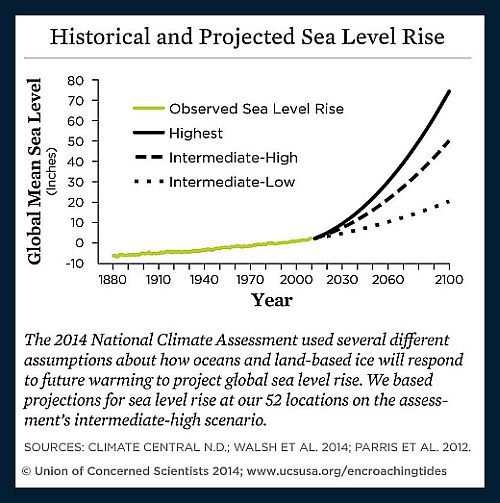 Science is at an impasse
Why the current mechanistic scientific paradigm is about to collapse
Orthodox science and physics map known reality. Neither science or physics have made any real effort to describe the meaning of the systems they map.
HISTORY OF SCIENCE Why it made mistakes
They leave the question of meaning to philosophers and religion. As a result they are unable to understand consciousness.
Learn Exactly How Reality is Created
The scientific establishment has made a huge blunder by assuming that consciousness was a throw off product of the physical brain. Scientists have been searching for those components of the brain that produce consciousness and have been unable to find them. This is because the brain does not produce consciousness.
In the past science did not study consciousness because it didn't think it was all that significant. However in the past 20 years neuroscientist have been attempting to understand what it is, but have been unable to  come to any kind of  consensus.
Science is reductionist, which means scientific methods break systems down to understand their parts. However, consciousness is the most fundamental of all phenomena and can't be broken down.
In general, scientists don't know what consciousness is or that it cannot be merged with the current scientific paradigm.
The Scientific Establishment Does Not Know What Anything Is (Physical Matter / Electromagnetic Energy)

Both waves of matter and thoughts are electromagnetic energy. Matter and waves are the same thing. The facts are right in front of us.

Click on the button below for the best, most amazing scientific article today. This is is a great example of a scientist gone rogue.
Consciousness is a State of Matter: MIT
Theory & Science of Consciousness
The Brain Does Not Create Consciousness
THE SOLUTION to All of Humanity's Problems
Click above
What Are the Projections for Sea Level Rise?
The rate of sea level rise is doubling every seven years. Florida will be gone by the end of the century.
Try to imagine relocating the entire state of Florida.
Future forecasts for climate change induced migration vary from 25 million to 1 billion environmental migrants by 2050, moving either within their countries or across borders, on a permanent or temporary basis.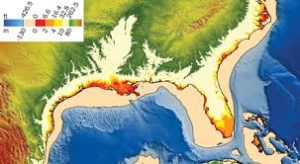 Be reminded, that this would only represent the beginning. The further into a warming event we go the less likely we can reverse it. Warming events can lead to 15-foot sea level rise or more. Since the world's highest populations and economic hubs are on coastal areas, the effect could be more than developing countries can contend with.
Climate change is expected to cause extreme weather events, sea-level rise and acceleration of environmental degradation. This will trigger growing population movements within and across borders. Climate change will have adverse consequences for livelihoods, public health, food security, and water availability.
This in turn will impact developed countries economically, overextending their capacity to respond and triggering global conflicts and exoduses.
THE SOLUTION to All of Humanity's Problems
The beauty within you is immense
You are a beautiful person
I have lived my entire life according to the deepest metaphysical principles.
All nature is alive, and everything is conscious and good. The soul of all that exists is eternal and benign.
Western man has denied the passionate and wise soul. The paradigm (waking dream) of Western man  blinds him  to the beauty and goodness within nature and  within himself. For this reason,  traditional man bullies others and destroys nature.
The heart and soul of man is beautiful.  It is inconceivable to me to consider it to be evil. It is only the belief that some people are evil that leads to evil-like effects.
Degradation and criminalization are the same thing. Laws are just state-sponsored bullying. We can criminalize a behavior in order to harm people, but please don't say that person is a bad person.
Behavior may be twisted, thinking maybe "bad," but those errors are a result of incorrect belief systems. Ironically those beliefs systems are reinforced by the very institutions that punish.
All the problems in our world, from overbearing governments to economic struggling, crime, war and strife, are a result of an inherent distrust of human nature. This is the faulty core belief by which we create our reality, personally and collectively. Remove this false belief, and we solve all our problems, personally and collectively.
If you read some of my other articles, I go to the very core of this problem, explaining why a  shift in humanity's consciousness occurred 5000 years ago, and how that has led to our incorrect values.
If you don't understand why this development occurred over 5000 years ago, you really can't understand anything about anything. This is the problem with our current education systems and official mainstream thinking, we don't understand diddly-squat.
Consciousness Shift 5000 + Years Ago
In short,  an emphasis on what I call male characteristics has evolved all our problems for 5000 years. Although an assertive, outward focused consciousness has developed modern technology and its many benefits, it has also led to many problems that cannot be solved unless we become aware once again of our source and true nature. Once that happens we can create a paradise on earth, comparatively speaking.
Our ways must change or we will not survive. This applies to every person personally, and to the species as a whole.
The Secrets of the Universe Unveiled
The Human Psyche is Male & Female
THE SOLUTION to All of Humanity's Problems
Click above
What We Are Witnessing
Greenland is currently calving chunks of ice so massive they produce earthquakes up to six and seven on the Richter scale. There was not much noticeable ice melt in the previous century. But now it accelerates every year, exceeding all predictions.
In Florida the Speed of Sea Level Rise Has Tripled. Although the sea has only risen by 8 inches since 1950, it is now rising by 1 inch every 3 years, its speed of rise having accelerated over the last ten years.
Scientific records of geologic history indicate that when sea levels have risen in the past, they have usually not done so gradually, but rather in rapid surges, jumping as much as 50 feet over a short three centuries. Scientists call these events "meltwater pulses"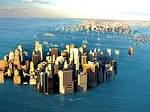 Cities along the U.S. coast and worldwide are locked into a doomsday downward spiral.
With the inevitable rise of ocean water large populations will soon be forced to migrate. This will be a matter of immediate survival. This will occur after multiple storms create economic disasters far worse than anything we have witnessed in the past.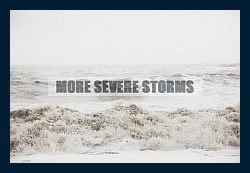 The simple facts do not look good. The majority of the world's population live in coastal cities that will eventually be flooded.  Disaster relief and infrastructure collapse will cost more than governments can afford. The destruction of property and loss of wealth will create poverty and mass migrations. The quality of life will fall. Tensions and violence will rise.
Get your free, powerful affirmations and guidance every day.
Simply click on any rotating earth on this website at

the top of every page.

 (Shown above and below.)

Daily Affirmations
---
This is where the links at the top of every page go to.

EN books
---
About us
---

EN books

President Trump Denies Global Warming
He says climate change is a "hoax," and is "stupid." He is doing all he can to get America to burn more coal, and drive smog generating cars while using less renewable sources of energy. Besides pulling out of the Paris Agreement on climate change in accordance with his America First policy, the Trump administration has so far initiated the reversal of 67 environmental laws.
What Can Be Done?
Click on "2" to continue reading article.