Everything you need to know to create the life you want!
EN's Course
You Are a Beautiful Person – Key to Freedom
EN's NEW manifesting course: Published on 4/24/2019
6″ by 9″ paperback: 358 pages.
List Price: $34.99.  Price: $24.49 You Save: $10.50 ( 30% )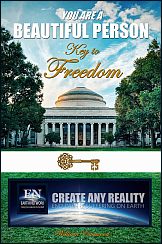 EVERYTHING YOU NEED TO CREATE THE LIFE YOU WANT!
Reveals how you can manifestany reality you desire.
Put an end to all your limitations & acquire the knowledge you need to create all your desires. The best of everything includes the full range of subjects in the four EN websites. A lifetime worth of learning, and all of William Eastwood's teachings.
The past does not create the present. Nothing is as we were taught, there is a new art and science to be learned. You exist at the center of a web of probabilities. Each thought and emotion you have will alter what manifests next in your life. If you are adamant about having what you want in your life you had better get it right.
If you follow the masses, you will be as a sheep led off a cliff by the great myths of modern man. Don't gamble your life on majority belief. Your life is too precious. There is no time to waste. Basis of THE KEYS, guidebooks on how to free yourself of all limitations in life.
Additional description provided with eBook (directly below) and on Lulu.com.