---
MANIFEST MONEY, FAME & FORTUNE! How to Become a Rich & Famous Person
---
How do I manifest money, fame and fortune?
How do I become a rich and famous person?
I will answer these questions now.
How do I manifest money, fame and fortune?
---
You can manifest money, fame and fortune with intense resolve and determination, as my story shows. Some people do it with vivid imagination, and others get motivation from proving their opposition wrong.
You can prove people that say you can't do it are wrong.
A personal story
---
EASTWOOD: "At age 13, I wasn't the most popular kid in school. Middle class with no contacts in the academic community, I applied the principle that thoughts create matter using visualization. I imagined myself a great architect and solar inventor reducing America's fossil fuel dependence and in the limelight.
"It all happened so fast that it made my head spin.
"Within a few months my solar homes were being built in my home town. At 13 years old a Yale Professor called my mother to ask me to work in his private research and development firm on a solar technology invention. Soon afterwards I was on the entire front page of our local newspaper as 'The Kid with the Sun in His Eyes.' By 18 I had a contract with the American Supply Company. At the Capitol of the constitution state the eyes of the world were on me as I unveiled a full-scale model of my modular solar system at the annual energy exposition in Hartford Connecticut.
"I was so successful applying the principle "that thoughts create" that I set my goals higher. I had something more important to do.
Vividly imagining your success generates desire and desire fuels your willpower. See what you want in your mind's eye and go to work to make it happen. Don't look up until it's your reality.
You are going to manifest money, fame and fortune and no one is going to stop you! You know it. With total confidence in yourself and your ability to achieve the goal, you cannot and will not lose.
Never let other people tell you you can't do something you want to do, or stop you from working toward your goal in every way you can.
"You create your own reality, and you are always in control of what you create.  I have said this since I was 12: You select events—probabilities—according to your desires and assumptions.
"The central premise that consciousness creates reality dismantles most accumulated knowledge in all fields. This creates a situation in which many beliefs and institutions will need to change."
---
The author attributes his success to the application of these principles. He worked on inventions with Yale University Professor, Everett Barber, at age 13, graduated from Milden Institute of Technology at age 18. Owned three large homes in coastal Maine by age 23. Took on the most powerful institution in the U.S. and has gone on to write fourteen books on metaphysics and manifesting over a 45-year period. William founded Earth Network of Altruistic Individuals, Inc. at age 37.
---
To manifest your destiny of fame and fortune, make it something that your life depends on. Base your actions on intense desire. You cannot have too much desire. Desire and thoughts are electromagnetic energy that draw the events and opportunities you need to create the desire.
Click above to learn more
QUANTUM PHYSICS MIND-BRAIN MODEL
Because I manifested money, fame and fortune when I was very young, I loved it and didn't want to stop. Once I got a taste of the good life, I couldn't settle for less. Life is too precious not to have everything you want in life.
The people that fail to manifest their dreams and lots of money may have it extremely difficult. Their lives can become tragic with much suffering and sadness.
Contrast what life will be like if you fail with what life will be like if you succeed. Doing so will generate a lot of energy to pursue your goal with resolve and willpower.
Know that you will become wealthy. Know that you can manifest money, wealth and fame. Know that you will. Then just do it and don't stop working until you have achieved that goal.
How do I become a rich and famous person?
---
You can become a rich and famous person by visualizing what you want and getting excited about it. Then work hard towards the goal. Picturing something in your mind creates desire. When you have enough desire, you have the willpower and drive to carry through.
Your beliefs, thoughts and emotions create your reality. When you have a thought, it alters the universe, and like a magnet it attracts beneficial events to you.  By focusing on what you want you create those opportunities and coincidences you need to have what you want in life.
Focus on what you want more so than on what you think you need to do to get what you want, like work.
EVERYTHING WE ARE EXPECTED TO BELIEVE AND WERE TAUGHT IN SCHOOL IS WRONG! It is all absurd!
"Consciousness creates reality and thoughts form matter! If you want to be powerful you have to go by the facts about reality and that means discovering the truth! Otherwise you are as blind as a bat and ineffective as a sloth!
Nothing is impossible, so never make your dreams contingent on anything else. I discuss this in depth in my books and in other articles.
What you need to know is that the electrons that form seemingly solid objects are also ongoing projections―energy of nonphysical origin beaming into time-space. Objects are actions. If you could stop the projection of matter in the same way you turn off a light with a switch, your physical body and environment would vanish.
The truth is that the events unfolding around you are projections shaped by your beliefs, thoughts and emotions. Your beliefs create continuity, not physical matter, because physical matter does not create anything. Past states of living systems do not create anything, only consciousness creates matter.
Our mainstream methods of achievement do not work because they are based on a false premise.
You can manifest money, success, wealth, fame, fortune or anything you want when you are determined to succeed and when you have had enough of whatever it is that is  bothering you.
Using metaphysics requires a change in the instinctive approach we all were taught to use to manifest money. If you want to create money, wealth, fame and fortune, it is all about the your emotions, thoughts and assumptions.
Scroll down to continue reading article.
Article resumes.
Manifest money, fame and fortune. How to become a rich and famous person.
Your thoughts create your reality regardless of what anyone says to the contrary.
How can everyone be wrong?
---
In the same way anyone thinks they are right — cognitive dissonance. They see what they want to see.
Because our thoughts create our reality, the thought that our thoughts do not create our reality creates our reality. Not only are our beliefs projected into events holographically, but they also filter our perception, which is why people are always convinced they are right. Our civilization is hypnotized by the strong belief that our thoughts do not create reality. But…
How can the experts and scientists be wrong?
---
To understand the "authority" of this site and the power of collective hypnosis, click FAQs below. Otherwise you may never understand our credibility.
Click above to learn more
The solution to the world's problems.
Your thoughts create your reality, but that's not all.
FOR THE BENEFIT OF MANKIND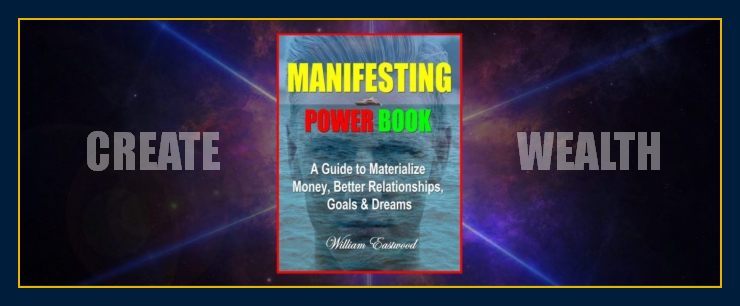 45

EASTWOOD
45 years of research goes into every book
What are you going to do to change your life?
---
You are in control of your experience. At any time, matter can be completely changed by the activation of conscious thought. Your environment is a product of your thoughts and emotions. By projecting the specific thoughts and emotions that embody your desires you can immediately begin a process of change.
MANIFEST MONEY, FAME & FORTUNE! How to Become a Rich & Famous Person
Copyright © 2021, 2022, By: William Eastwood.
Primary article concludes here.
Four FREE Earth Network websites with over 100 articles
---
FOUR SCIENTIFIC EDUCATIONAL SITES — ONE PHILOSOPHY
A singleAMAZING philosophy!
100's of articles!
4 EN websites!
They are meant to be used together.
Click between them!
Click below for list of articles.
Click below for master page.
Thoughts form matter links
Manifest money
You define what you will be and what you will have in life. Get a new view of yourself and a greater picture of how good life can be. Concentrate on your desire until it becomes a burning desire. Intense desire and vivid imagination will draw those favorable probabilities into you life.
---
Categories: How do I manifest money?, How do I manifest fame and fortune?, How to become a rich and famous person. How do I become rich and famous?, Thoughts can create money and success, Do thoughts form matter? Click on our site to learn more.
The concepts conveyed in this website are within these books.

www.ThoughtsFormMatter.com